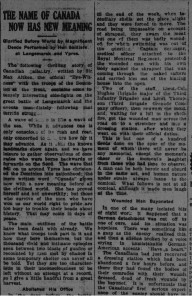 For many Canadians, Vimy Ridge is the battle where Canada defined itself as a nation in the Great War. However, the idea of Canada defining itself on an international scale began earlier in the war. On June 1, 1915 the Berlin Daily Telegraph printed "The Name of Canada Now Has New Meaning" with the sub-title "Glorified before World by Magnificent Deeds Preformed by her Soldiers at Langemarck and Ypres". The article even stated: "The wave that fell on us around Ypres had Christened the Dominion into Nationhood: the mere written word "Canada" glows now with a new meaning before all the civilized world."
The First World War is where Canada's birth through blood and sacrifice narrative is usually believed to have originated, and this article proves this narrative was being used years before Vimy Ridge.
This report was written by Sir Max Aitken, the "eye-witness" reporter with the Canadian troops on the front line, who also ensured Canadian deeds were reported on and featured in many newspapers. His aim was to ensure the deeds of Canadian soldiers were recognized as deeds done by Canadian troops, not just troops of the Dominions or Britain, and therefore, his works took on a very nationalistic and patriotic tone.
"The Name of Canada Now Has New Meaning," Berlin Daily Telegraph, June 1, 1915.
Jeffery A. Keshen, Propaganda and Censorship During Canada's Great War (Edmonton: University of Alberta Press, 1996).