Ivan Hector Thomas was born to Mary and William Thomas in Ramsgate, England on January 23rd, 1894. Ivan was the oldest of Mary and William's three children. A few years after the death of his father, Ivan immigrated to Canada in 1913, settling in Galt (Cambridge), Ontario. He worked as a printer as well as working for the 29th Waterloo Regiment.
When war broke out in Europe in 1914, Ivan joined the Canadian Expeditionary Force and headed back to Europe. Ivan's younger brother Hugh who born in 1899 joined the British Army in 1914 claiming to be 17 when in fact he was younger. Ivan fought as an infantry soldier for the 1st Battalion in France. Ivan went missing on June 15th, 1915 likely during the Second Action at Givenchy. Ivan was later presumed dead for official purposes. Hugh returned home to England after the war and immigrated to Canada in 1920. Private Ivan Hector Thomas is commemorated on the Vimy Memorial in France.
Service number: 7091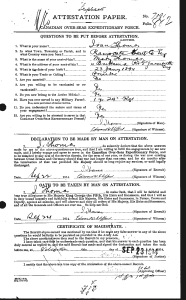 RG 150, Library and Archives Canada, Accession 1992-93/166, Box 6908 – 48, Item 262488, Regimental Number 7091, Name Ivan Thomas.