John Hatchman was born Dec 21st, 1884 in England and later immigrated to Canada with his mother. John worked as a policeman in Waterloo, and spent four years with the Royal Canadian Artillery. John fell in love and married a woman named Lillian.
When war broke out in August 1914 John enlisted for the Canadian Expeditionary Force in Ottawa, Ontario. Despite his military and police experience John was enlisted as a Private. John fought for the Princess Patricia's Canadian Light Infantry (Eastern Ontario Regiment) in Belgium during the Second Battle of Ypres. On the evening of May 8th, 1915 John did not answer to roll call following action with his battalion at Bellewaarde Lake near Ypres. He was reported missing by his superiors and was later officially presumed dead. As no body was ever recovered Private John Hatchman is commemorated at the Ypres (Menin Gate) Memorial in Belgium.
Service number: 273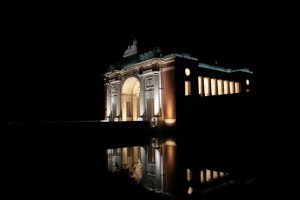 "Ypres (Menin Gate) Memorial," Commonwealth War Graves Commission, accessed March 24, 2015, http://www.cwgc.org/find-a-cemetery/cemetery/91800/YPRES%20(MENIN%20GATE)%20MEMORIAL
"PTE Hatchman is Wounded and Missing," Berlin Daily Telegraph, May 29, 1915.