Percy Walley was born in 1892 to John and Charlotte Annie Walley. Percy married a young woman named Sadie Weeks and they lived together in her hometown of Galt (Cambridge), Ontario. Together they welcomed a little boy named Harry in 1910. Percy worked as a core maker at a local company called Brass Works. Percy volunteered to join the Canadian Expeditionary Force in the 34th Battalion. Then suddenly on March 4th, 1915, before departing Canada for Europe, Percy and a fellow soldier named John Gahagan were struck by a streetcar in Guelph and killed instantly. The details of the death, which are quite graphic, can be read in the newspaper clipping attached. Private Percy Walley is buried at Cambridge (Trinity Church) Cemetery.
Service number: A/2216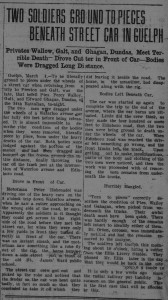 "Two Soldiers Ground to Pieces beneath Street Car in Guelph," Berlin Daily Telegraph, 4 March 1915.