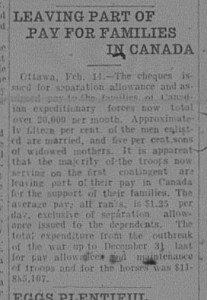 While the average pay for Canadian soldiers of all ranks was $1.25 per day, it became apparent that many soldiers in the first contingent were dividing their pay to ensure their families in Canada were provided for, whether it was a wife, children, or parents. While most of the first recruits for the armed forces gave up good paying jobs, some men were forced to enlist for employment after experiencing two years of an economic depression.
"Leaving Part of Pay for Families in Canada," Waterloo Chronicle, February 11, 1915.
Tim Cook, At the Sharp End: Canadians Fighting the Great War, 1914-1916 Volume 1 (Toronto: Viking Canada, 2007).