The American consul general visited Berlin for a few days and reported about the life there during the war. He said that there were no changes in the daily life since the war had started. All shops, restaurants and coffee houses were still open and had as many guests as usual. They didn't have a problem with groceries, because they solved the lack of wheat flour by adding potatoes to it. Except for the prices of wheat, no other prices had increased so far. The problem of prewar unemployment was solved through the mobilization of soldiers and the need for industrial production for the war. The situation on the western front would not be considered as dangerous, as the Germans pressed forward deeply into France. The Germans would educate their reservists, but there were millions of soldiers still in Germany. Despite the losses, the German people would not mourn so much, they would hide their grief and feelings of revenge.
About life in Germany during the war (28 April 1915)
An Italian journalist travelled through Germany and gave the following insights and picture of life there during the war. He noticed two things: first, Germany wouldn't forget commerce because of the war and second, the people wouldn't forget the war because of their interest in business. They would keep going to fight, to work, to drink beer, to help the wounded, to amuse themselves and to sacrifice themselves. Germany was never more tense, active, productive or more creative than at that time according to the Italian. To stagnate in its industrial production would do more harm than a military defeat, and many Germans hoped that shortly after signing a peace treaty that international trade would resume as it had been before the war.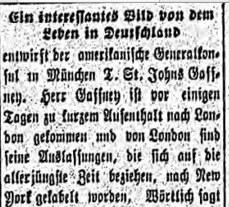 ("Ein interessantes Bild von dem Leben in Deutschland", Berliner Journal, 16 December 1914; "Ein fesselndes Bild…", Berliner Journal, 28 April 1915)