On August 5, 1914, the headline story of the Berliner Journal dealt with the outbreak of the war in Europe and tried to interpret the events that were happening. The story stated that Russia, in cooperation with France, started the war with Germany and Austria-Hungary, and that the German emperor should have tried to keep peace with the British until the last minute. In addition, Italy, which had an alliance with Germany and Austria-Hungary, betrayed them by not helping the two countries militarily, as they were supposed to do. Great Britain was not sure about what to do now, but would likely remain loyal to France in whatever it decided.
A speech from Kaiser Wilhelm was printed as well. It said that envious people forced Germany into this war to defend itself. All German ships, which lay in Canadian harbors, should leave this country and sail to the USA. At the end of the article, the publishers of the Berliner Journal acknowledged that they had received lots of information in the last few days, but that they doubted some of its authenticity; at this point, most information was probably no more than rumors.
This rendition of events provided by the Berliner Journal contrasts sharply with those reported in the local English papers. Interestingly, no mention was made of Germany's betrayal of Belgian neutrality, nor of the celebratory attitude felt by many of the English residents of Waterloo County. With this declaration of war, many German-Canadians officially found themselves caught between their own nationalistic sympathies, and those of the country within which they resided.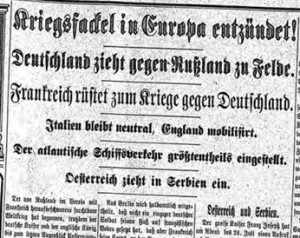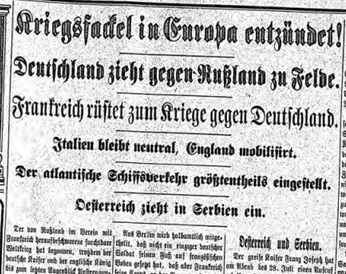 ("Kriegsfackel in Europa entzündet", Berliner Journal, 5 August 1914)