In a speech given at the opening of the Dominion Parliament in late August, 1914, it was said that "Germans in Canada belong to the best citizens. Great Britain does not fight the war against the German nation itself. The Asquith government had tried very hard to avoid the war, but Germany and Austria-Hungary had insisted on it. Germany had intended to hurt Belgian neutrality." The speech was made before a vote on the Canadian war budget, and again emphasized a belief that the German government, and not the German people, were to blame for the current state of affairs.
The difficult position of the German-Canadians (17 February 1915)
A speech given six months later by Sir Wilfrid Laurier noted that the position of the German-Canadians would continue to be difficult. Blood would be thicker than water and nobody remaining at home in Canada would require the same sacrifices as the Germans yet the things demanded from the German-Canadians, were being fulfilled whole-heartedly.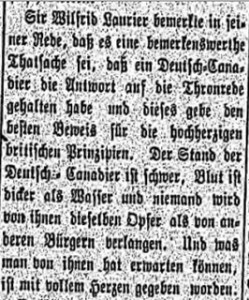 ("Eröffnung des Dominion Parlaments", Berliner Journal, 26 August 1914; "Sir Wilfrid Laurier…", Berliner Journal, 17 February 1915)