Beginning on August 8 1914, an embargo was placed on Canada's new enemies, so that no Canadian was allowed to trade goods or conduct business with Germany or Austria-Hungary. These activities were forbidden with the threat of imprisonment for those who broke the law.
The telegraph cables between the USA and Germany were cut so that there was no more connection between the two countries.
Articles in the Journal also revealed that at the beginning of the war there had been warnings of rising prices for groceries and that the war would not help the Canadian economy, but harm it. On August 19 1914, it was said that the prices for bread had significantly increased.
On August 26 1914 the Berliner Journal announced that they were no longer able to send issues of their newspaper to subscribers in Germany or Austria-Hungary, because the mail traffic had been severed.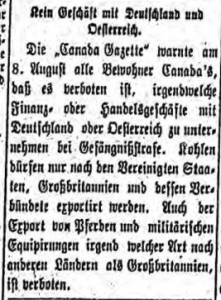 ("Kein Geschäft mit Deutschland und Österreich", Berliner Journal, 12 August 1914; "Als eine Folge des Krieges…", Berliner Journal, 19 August 1914; "Nach Deutschland und Österreich…", Berliner Journal, 26 August 1914)